General Description: A superior, high dielectric insu­lating tubing that is shrinkable as much as 50% in order to provide an immovable, tight fit. Temperature requirements are approximately 90°C. for shrinking purposes with a heat cycle as short as 1 second. May be shrunk by various methods such as heat guns, boil­ing water, electrical coil heaters or in ovens.

Advantages: Heat shrinkable Mylar® tubing has a dielectric strength far exceeding other shrinkable materials. It is extremely tough and forms an excel­lent mechanical barrier. It can be used at both low and high temperatures. It is moisture & vapor resistant and is unaffected by oils, greases and volatile aromatics.


Minimum Wall Thickness: .002"

Suggested Uses: Capacitor covers, RF & IF coil insu­lation, varnish masking, roller covers, lead binding & holding, battery covers, color coding, insulation between coils, sleeving insulation over wire leads, protective coverings.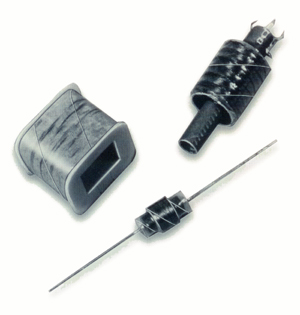 Material Properties* :

Dielectric Strength - VPM min................................3,000
Service Temperature Range - °C...............-60 to +150
Melting Point - °C ............................................above 245
Dielectric Constant ...........................................3.5 to 3.9

* As provided by producer. Based on 65 gauge film.

Mylar® is a DuPont Registered Trademark