Low cost... large, multi-cavity molds offer the economies and the quality of standardized mass production.

One piece, precision molded... stable . . . no diameter changes when wound . . . low moisture absorption.

Stock dies available... no special tooling required. . . low cost forms are shipped promptly. .

Fits standard layout... interchangeable with most coil forms in standard size printed circuit hole layouts.

Dimensionally stable... extremely accurate dies offer close tolerances in finished piece. . . low moisture absorption keeps dimensions accurate.

Uniform torque properties... self-tapping, precision ribs produce uniform tuning core torque.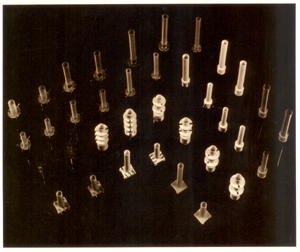 Lugged or unlugged... available for lugging In your plant or ours... most lug configurations available without tooling.

Easily shielded... shield can, if used, may be placed over form with lugs of can Inserted directly Into PC board.

Wide design flexibility... variable Inductors can be designed in an almost limitless range of electrical characteristics.