General Description: Resinite™ FR9120 and FR9120-1 are spiral wound, neutral, natural, dielectric kraft tubing that has been impregnated with special flame retardant resins. FR9120 is the standard grade tubing for basic coil winding and bobbin use and FR9120-1 is the fabricating grade where further fabrication is required, such as punching, notching, threading, lugging or slitting.

Advantages: For the first time, a low cost, moisture resis­tant, paper base tubing has been recognized by Underwriters' Laboratories, Inc. for electrical and electron­ic uses in flame retardant applications. This tubing has all the attributes of well known Resinite™ tubing but in a flame retardant grade. It is U/L recognized as both FR-1 and 94V-0.


Minimum Wall Thickness: .015"

Suggested Uses: Applications that must meet flame retar­dant specifications in electrical and electronic devices; particularly those that require the mechanical qualities of Resinite™ such as transformers and coil forms, switch cov­ers, pilot light shields, etc.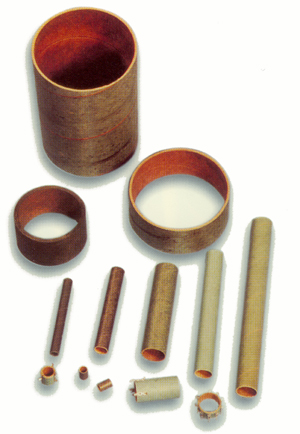 Resinite™ is a registered trademark of Precision Paper Tube Co.